While there are many factors to consider when buying a house — location, layout, size, price, and neighborhood — the one thing all potential homeowners should consider is the architectural style. The other factors may be practical, but the aesthetic is also important because everyone wants their dream house to look fabulous both inside and out.


Southlake, Texas
, is a great location that boasts a wide variety of home architecture styles. If you're looking for a Southlake home, read on to learn what you need to know about the most popular architectural styles of Southlake real estate.
Colonial
From the 17th and 18th centuries, the Colonial style has been a simple, elegant house type. While it refers to a variety of styles from the period, most often it's referring to a British style called Georgian Colonial. This style has a rectangular shape and is symmetrical, with the same number of windows on either side of the door in the center. Georgian Colonial homes often have two chimneys to complete the mirror image. The windows typically have small, square panes of equal size. A Colonial house has two stories and the bedrooms are usually on the upper floor.


In the late 1800s through the 20th century, Colonial Revival became an update to the traditional style. It added central hallways and intricate cornices, as well as white clapboard and green or black shutters. Colonial and Colonial Revival houses can be found throughout northern Texas.
Contemporary
This architectural style was designed between 1950 and 1970. It combines tall windows; an atypical combination of wall materials such as stone, wood, and brick; and a lack of ornamentation. While contemporary homes are usually flat-roofed or gabled, both versions tend to be only one story with an integrated landscape to increase the overall effect.


Contemporary architecture does not possess strict defining requirements, giving architects the freedom to be creative and bend the rules of architecture. The style will often include curved lines and asymmetry, as well as modern features like open floor plans, technology, and USB sockets.
Winn Wittman
, a member of the American Institute of Architects, is a Southlake architect who specializes in contemporary design.
Craftsman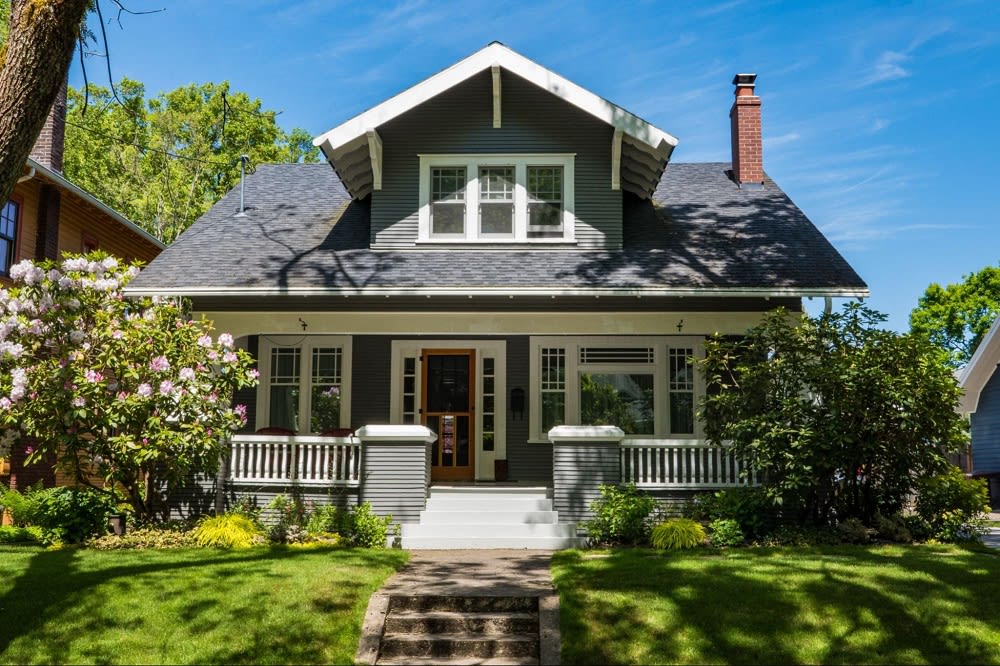 Photo courtesy of Shutterstock
The Craftsman style is the child of Gustav Stickley, an architect and furniture designer who became popular at the turn of the 20th century. The simple style has horizontal lines and subtle colors, such as green or pale yellow. Often featuring a low gabled roof and overhanging eaves, Craftsman homes usually have a wide and luxurious front porch set off by square or round columns. Triangular bracketing and a dominant chimney are also standard features, as well as exposed beams, either on the outside porch or inside the house itself. Built-in wooden components, like light fixtures, shelves, or furniture, are a unique aspect of the Craftsman style. While often called the California bungalow, the style can still be found in Texas.
French
The French style was made popular in the United States in the 1920s when the architect soldiers returning from World War I in France brought with them new inspiration. Made from stone or brick and detailed in copper or slate, the French style values balance and symmetry. One of the style's most defining features is the tall, steep, pointed roof. Rectangle doors in arched openings, balcony, porch railings, and double windows with shutters are also featured. Second-level windows often have a curved top breaking through the cornice. French-style estates can be found throughout the US, especially in Louisiana, but they're also popular in Southlake.
Mediterranean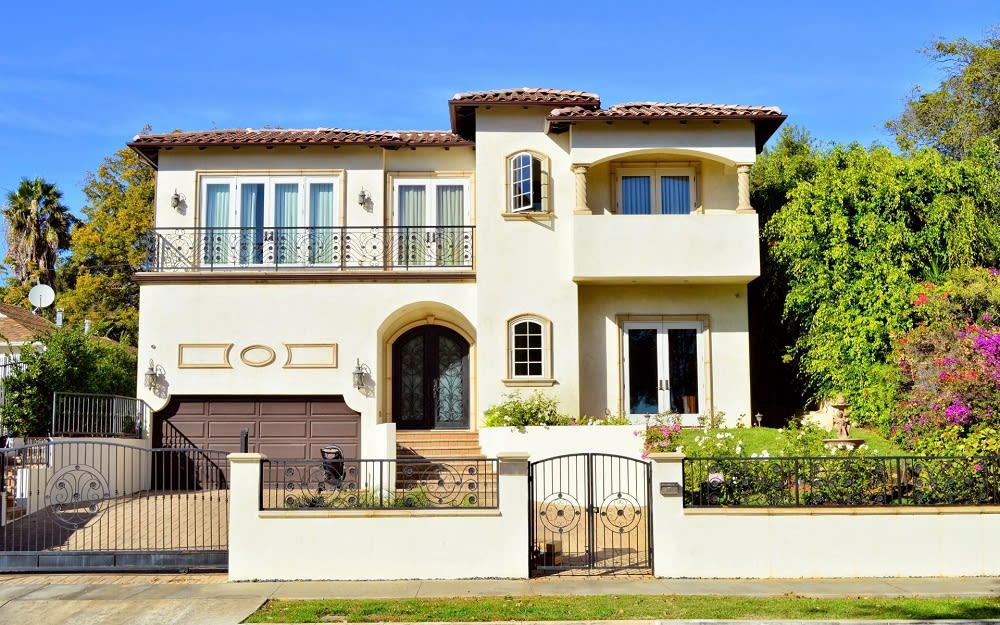 Photo courtesy of Shutterstock
Like the French style, the Mediterranean style uses its name to reference its inspiration. Buildings in this style come from the late 1800s and early 1900s and are influenced by Spanish and Italian architecture. Typically made of brick and stucco, these homes have arched windows and wrought iron or wooden balconies — the roof is often tiled. The interiors of this style showcase vibrant, multi-colored tiles, intricate moldings, and more wrought-iron railings. In the US, Mediterranean-style houses are associated with the coasts, specifically in California and Florida. However, many beautiful examples can also be found in Texas.
Mid-Century Modern
Extremely popular from the 1950s to the 1970s, the Mid-Century Modern architecture combines a sleek international style with wood elements, geometric accents, and bright colors for a natural and playful look. The windows are usually floor-to-ceiling, while the lines are clean and the floor plans are open. The materials used outside continue into the interior, especially the floors, to give an illusion of connection between nature and the inside of the house. Large glazed, sliding doors and glass wells further enable the connection.
Ranch
An American style, the Ranch style — also called the California Ranch style — originated in California and other warm parts of the country as the layout lends itself nicely to keeping cool. Created in the 1920s and 1930s, its peak of popularity occurred in the 1950s and 1960s. The Ranch style is traditionally one story, spreading out over a large plot rather than building upwards; it can be U-shaped, L-shaped, or linear. Pitched roofs, brick or wood walls, and a built-in garage are typical features. They are also known for large living-room picture windows and sliding doors that lead to the backyard or patio, which are often a main focus of the house.
Tudor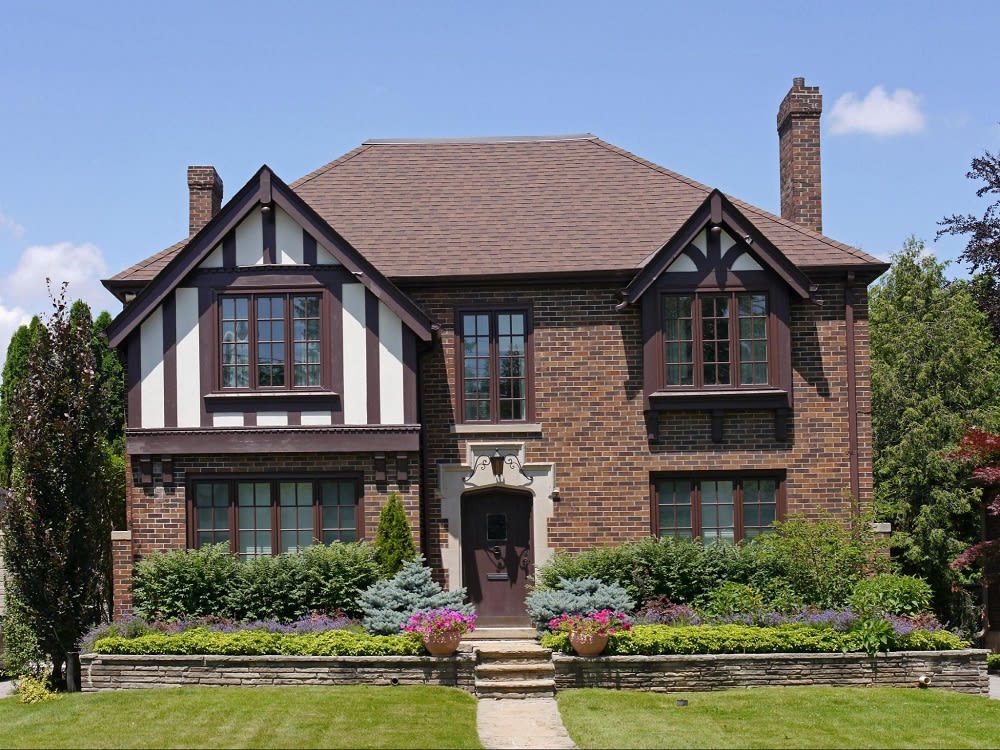 Photo courtesy of Shutterstock
A distinctive style, Tudor architecture draws inspiration from medieval English architecture and became popular in the 1920s and 1930s. Tudor homes' exteriors are dominated by one or more gables, which are steeply pitched and decorated with half-timbering so they appear to be striped. Rounded doorways, large stone chimneys, multi-paned casement windows, and patterned stone or brick walls are common in Tudor homes and buildings.
Your home in Southlake
If you're looking for homes for sale in Southlake, Texas, contact Realtor® Sophie Tel Diaz. The dynamic and professional leader of Sophie Tel Diaz Real Estate Services, she leads one of the top brokerages in the Dallas-Fort Worth area. Sophie has extensive experience navigating the fluctuating housing market and is very attentive to her clients' needs and wants.


*Header Photo courtesy of Shutterstock