Interior design provides the opportunity to make a home your own. Whether you need décor ideas to personalize houses for sale in Grapevine, TX, or you're ready for a change of pace after a decade of the same design, following these six tips can help you get started. Before diving into the design tips below, here's what to know about Grapevine.
Grapevine
is a city located conveniently between Dallas and Fort Worth. There's plenty of design inspiration to find in the city, from the art galleries and shops of Historic Downtown Grapevine to the several different residential styles of homes. The
inventory and average listing days
in Grapevine have increased in the past month, which makes it a good time for buyers to start their search. With this in mind, here are some decorating tips to use in your home.
1. Learn from the professionals
If you aren't sure where to start when designing the inside of your home, research
professional interior designers
in the area. They use extensive experience and education to create fully realized and seamless interior decoration choices. You don't have to hire an interior designer; simply observing their work and trying to emulate it in your own home can teach you a lot about the design process.

There are several highly rated interior designers in Grapevine to be inspired by. Urbanology Designs steps away from what's expected from design choices, instead forming an individualized experience for each client. Or look at design photos from the local Nathan Hejl Interiors, which uses client feedback to create timeless and functional spaces. Begin an interior designer search of your own to find other designers who align with your aesthetic.
2. Form a plan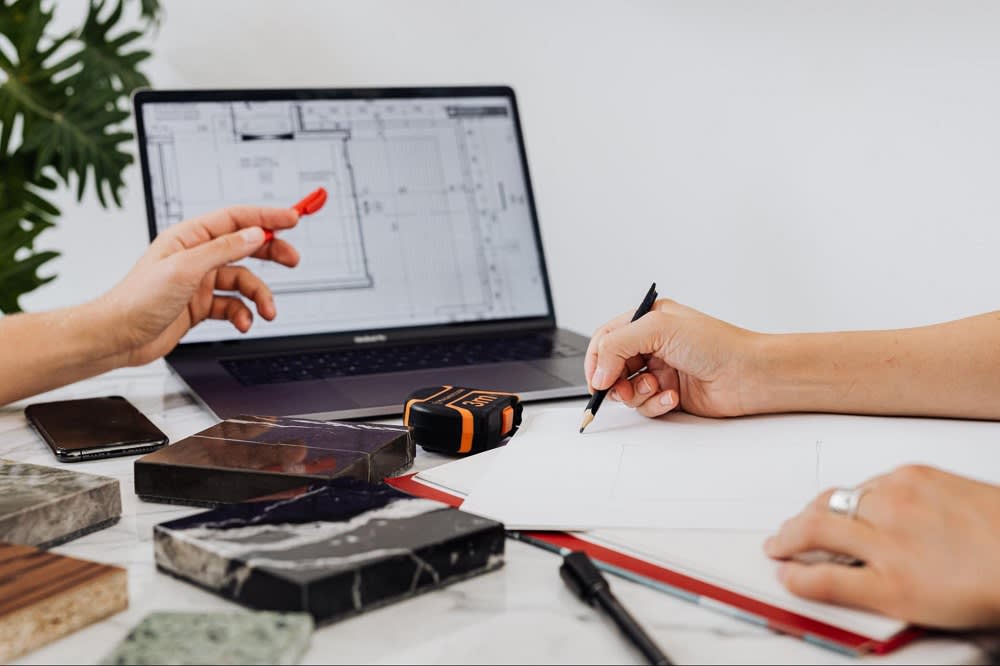 Before investing in any supplies, have a plan in place for each section of the house you're decorating. When you've taken inspiration from the professionals, decide which ideas you want to focus on, to create a cohesive look in your home. Maybe you prefer something sleek and high-end, or you want something warmer and cozier. Decide on an aesthetic, and if you plan on using more than one style, plan out how to integrate them.
Interior design is as much about placement as it is about artistic choices, which is why you should plan out what will go where in each room. There are several
historical residential styles
within Grapevine that are large and spacious, like Queen Anne homes and other Folk Victorian styles. Account for the architecture of your home, and make sure to choose furniture, beds, and statement pieces that look proportional to the space in the room.
3. Choose colors carefully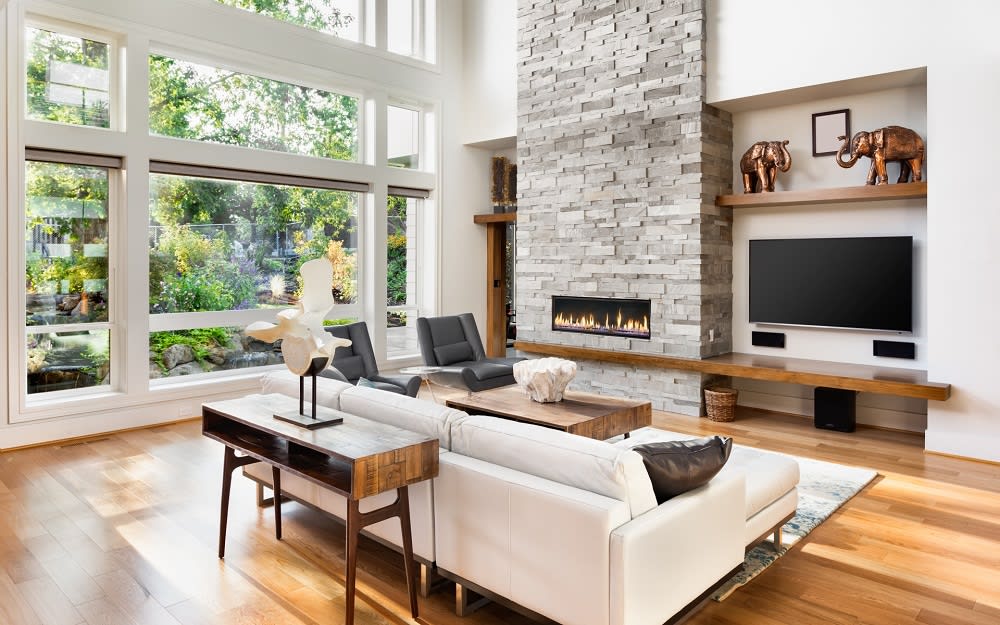 When you've figured out the logistics, consider which colors to use in the home. For a high-end look, people with Grapevine luxury homes should explore rich colors which have historically been used to signal luxury, like royal blue or purple. Currently on the rise are neutral colors, especially
brown shades
. Whether that be something bold like a chocolate brown, or something lighter like caramel or camel, incorporating brown into your home will keep it looking modern.

Although neutrals will always have a spot in great interior design, bold colors are also on the rise, particularly green and blue. These colors are reminiscent of the outdoors and nature, which people this year have grown a newfound appreciation of. The trend of incorporating natural elements in the home is visible in other style choices as well, like adding indoor plants and integrative designs.
4. Mix and match textures
There's no need to stick to one texture when designing your home, as different textures bring depth and visual interest to your interior design. Mixing materials in a unique way also helps to personalize a home living space. Think outside the box when pairing multiple materials like metal, wood, and stone.

Incorporate different textures in objects like throw pillows, blankets, rugs, and furniture, as well as unconventional surfaces like walls and trim. A lime-washed or Venetian plastered wall nods to the past while remaining contemporary. Textures coming from high-end materials like silk, velvet, wool, and faux fur can create a feeling of luxury in the home as well.
5. Bring nature into the home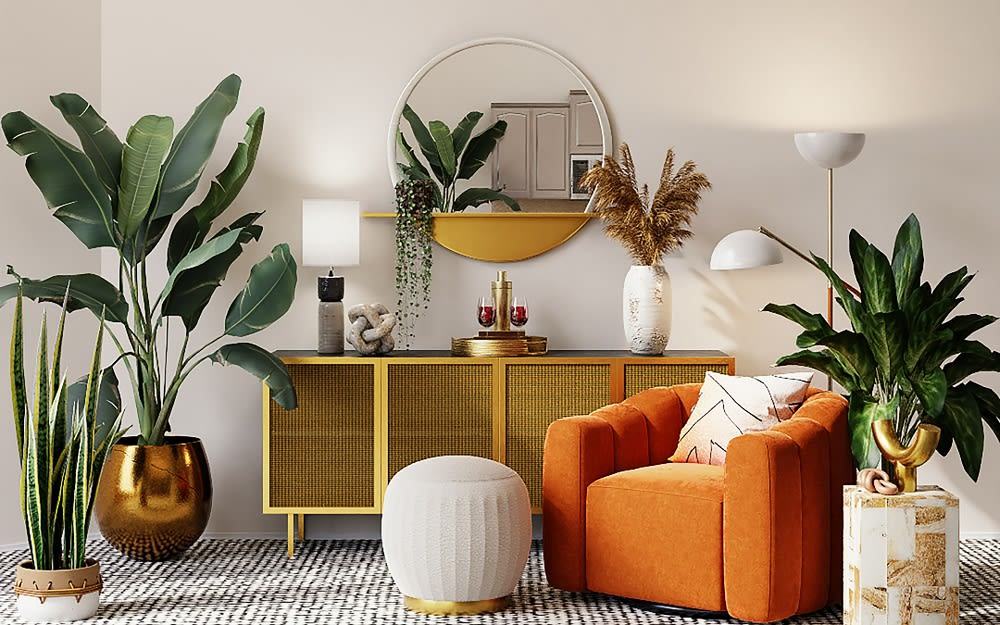 The nature around Grapevine homes for sale is beautiful, which makes this interior design tip an easy one to follow. Pull inspiration from the 8,000-acre Lake Grapevine and surrounding wilderness trails when
incorporating natural designs
in your home. Or visit hiking spots like Mills Run Trail to observe the surrounding trees, blooms, and bushes for ideas.

With this inspiration, pick a few species native to Grapevine and try incorporating them within the home. Hang pots from walls, or use colorful flowers as an accent piece in a room. Design an outdoor space with a large tree shading a sitting area or a pool. You can also use materials that incorporate nature or a natural design, such as organic materials, or stonewares like terracotta and marble.
6. Think about the furniture
Although you may be guided by certain size restraints, there's still plenty to think about when deciding which pieces of furniture to incorporate into a room. Aim for high-end future pieces that are elegant but still comfortable to use. Commit to large items like a bed frame or a long couch, as they'll look more cohesive than several small pieces.

Furniture isn't just for the home's interior, as the outdoors has become more popular with home buyers. A few pieces of elevated outdoor future, like a patio set or a couple of lounge chairs, utilizes and enhance backyards and front porches for people to use, extending the spaces in their home.
Ready to design your Grapevine, TX real estate?
There's plenty of inspiration within Grapevine to help you design your home interior, and these are only six tips of many to try out. When you're ready to find your own home to decorate, contact trusted local agent
Sophie Tel Diaz
to guide you through the process.